I am a huge fan of flip flops. I have even been known to wear them in the cold months of winter. (Yes, I do live in snowy Michigan) In summer, they are the perfect shoe to easily slip on when I have to run out of the house quick. In fall and winter, I try to wear them as long as possible just to prolong the feeling of summer. I love how many different colors and styles you can get, and I love how comfortable they are.

The only thing that makes the average flip flop even better is when they are made with natural rubber!
Planet Flops
is my new favorite flip flop brand for this exact reason and so much more! At Planet Flops, they are dedicated to making environmentally-friendly, stylish and incredibly comfortable flip-flops. Instead of being made from synthetic rubber (which comes from petroleum and chemicals), Planet Flops are made in Brazil with natural rubber. Natural rubber comes from a rubber tree in the Brazilian rainforest. The trees are not harmed and are not chopped down. Instead the process is more like extracting maple syrup from a tree.
That is just one of the things about Planet Flops that sets them apart. I also love that they were created by a well-known podiatrist, Dr. Sylvie. Plus, every time you buy a pair of Planet Flops, they plant 10 trees in the Brazilian rainforest. Now, that is living green!
Unfortunately, my love of flip flops usually comes with lots of blisters. When I wore my
chocolate Planet Flops
for the first time, I braced myself for the pain and blisters. They never came. I enjoyed a comfortable fit the whole time! I have been shocked to see how cozy and gentle these are on my feet. Apparently another benefit of wearing natural rubber is that they provide more cushion and flexibility.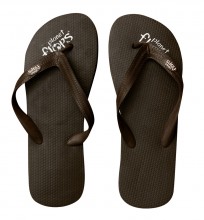 I find myself playing favorites with my Planet Flops, but I can't help it! They are not only cute, they are also super comfy, which trumps all in my book. Luckily, they come in tons of colors and designs, so you won't be limited in what you can wear with your flip flops. From thin straps to wedge, from mens and womens to kids, you can get everyone in your family fitted in flip flops they will love. Plus, there is free shipping when you buy 4 or more pairs. Buy Planet Flops
here
!
Don't let summer end just yet! Get some new flip flops and feel summery all over again!
We don't want summer to end yet, so we are giving away (1) pair of Planet Flops to (1) lucky winner! Yay!
Here's how to enter this fun giveaway:
Complete the mandatory entries below!
1. Like
Planet Flops
on Facebook.
2. Become a public follower of Your World: Healthy and Natural on my right sidebar and tell me you did so in a comment.
For more entries:
Head over to Planet Flops and tell me which pair is your favorite. (1 entry)
Post on your Facebook page about this giveaway. Share the link in your entry.(1 entry)
Subscribe to Your World: Healthy and Natural and comment about it. (1 entry)
Vote for Your World: Healthy and Natural on Top Mommy Blogs or We're on the Fence. (1 entry per vote/day and copy the link back in your comment for it to be valid)
Blog about this giveaway and link back to this post.(2 entries)
Follow
@carathenatural
on Twitter and tweet about this giveaway.(1 entry)
Like
Your World: Healthy and Natural
on Facebook.(2 entries)
Comment on any of my posts about healthy and natural living that you have not commented on before. I love to hear your thoughts!! (1 entry)
The deadline for this giveaway is September 12th at 11:59 pm EST, at which time a winner will be randomely chosen. Make sure that you include your email in your comments because if I can't get a hold of you, you can't win.
* Planet Flops provided me product to review, and I was under no obligation to write this post. Nor was I under any obligation to sponsor a product giveaway in return for the free product.*