I have not gone through a life-threatening illness. I have not lost a loved one from a life-threatening illness. But, when I heard about Ruthe Rosen's book,
Never Give Up
, I knew that I had to read it.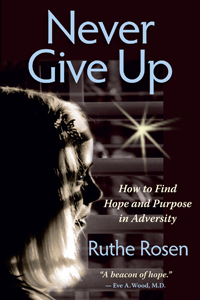 You see, when Ruthe Rosen's fourteen-year-old daughter, Karla, was diagnosed with an inoperable brain tumor and given only a year to live, Ruthe and her entire family did more than cope with the unimaginable—they embraced it. Even though I haven't dealt with this situation or anything even close to it, I do have children I love dearly, and I felt a strong connection to this book.
The way Ruthe writes the book, incorporating pictures, diary entries, and lessons she learned along the way, makes you feel a close connection to her and her family. As a mother, I laughed and cried through the book as I imagined my own children in Karla's place. It hit me deep in my heart every time I began to read.
This is one of those books you don't ever want to put down, even after you are done reading it. I almost felt as if I were part of the Rosen family, and I wanted to continue with them on their journey.
I am so grateful to Ruthe for sharing her and Karla's journey and the invaluable lessons she learned along the way. When I asked Ruthe, "If you had to choose one main thought/lesson that you want other mothers to take away from your book, what would it be?" She answered...
"There are so many things I am hopeful a mom reading Never Give Up will walk away with but if I have to choose one of the biggest lessons I learned and share with so many people I sit and talk with, it would be…
Embrace the journey. Take one day at a time. In order to embrace it, you must first accept it. You don't have to understand it all nor be able to figure it all out, but no matter how dark your struggle, embrace every single moment of it or you will miss the opportunity to find joy and purpose. And that living with 100% hope is a choice we all have the strength to choose."
Besides affecting people through her book, Ruthe Rosen and her husband Michael have embarked on a mission to reach out to strangers who need help and return the kindness they experienced. They created The Let It Be Foundation, which helps families with children who have been diagnosed with life threatening illnesses or medical conditions.
Proceeds from the sale of
Never Give Up
will benefit The Let It Be Foundation. You can buy your own copy on Amazon or on
Ruthe's website
. Thank you, Ruthe, for sharing your story with all of us! It affected me deeply, and I am truly grateful!
*I was provided product to review, and I was under no obligation to review if I so chose. Nor was I under any obligation to write a positive review in return for the free product.*